you have to be
unique and
different
and shine in
your own way
- Lady Gaga
a little magic
can take you
a long way
- Roal Dahl
vision accomplished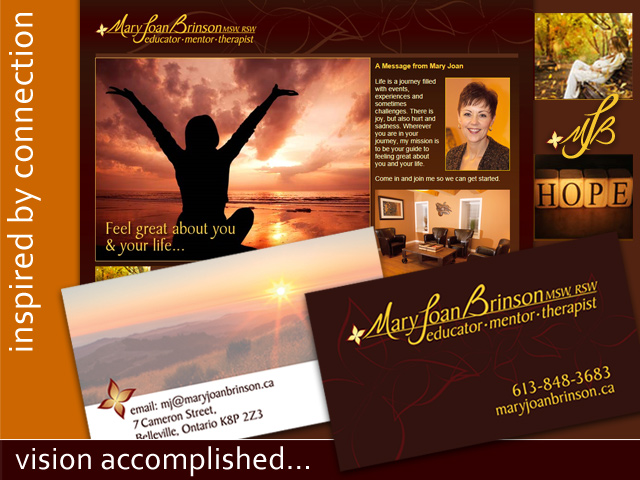 With gratitude to our clients we present our
"Vision Accomplished."

What began as your dream, vision, hopes and ideals have become a visual & tangible reality for you to proudly share with the world!

You explored with us, you shared with us, you trusted us...you let us work our magic!

It's been an exciting, creative and very rewarding journey...
one we are so grateful and proud to be
a part of.
Vision Accomplished is a small collection of our featured clients and their businesses. As you peruse this section you will view designed products we have created for each of them. You will see how each of the businesses we work with is unique unto itself. It is AdGraphics' mission to capture their specific "look & feel" and create and design products they can use to promote their businesses. Products they take pride in.
We are pleased to showcase designs created for these amazing people & their successful businesses:
Mary Joan Brinson, MSW. RSW, Mindful Movements Pilates & Yoga Studio, The Dressing Room,
Hollandale Landscaping & Garden Centre and Weatherall Dock & Dredge.

A few of the products displayed are as follows:
logos, business & appointment cards, rack cards, letterhead, flyers, posters, multi-page booklets, websites, branded emails, enewsletters, banners, signs, illustrations and more...

If you are interested in exploring your vision contact us today and let's get started!